Individual Campaign Reports

NOTE: "Click" on the underlined city on the left below to see the reports prepared by Elwyn Platner.

Boca Chica-4
Chelsea Heydt, David Otis, William Otis, Melissa Otis, Ida Otis, Eric Otis, Bethany Otis, Bryan Otis, Jean Cusak, Joshua Cusak,Thomas Cusak, Carol Lince, Larry Lince, Angela Raimondu, Ronald Leaman, Rebecca Choban, Philip Howson, Thomas Martin, Lance Robins, Johnny George, Marquita Klinedinst.
Bonao
Harvey Miller, Robert Marcus, James Haynes
Higuey
Robert Stephan, David DeRose, Terry Pflugrad
La Romana
Leo and Pauline Doucet, Mike Muller, Wes McDonald
Santo Domingo
Robert Lawson, Carol Lawson, Tony Callihan, Steve Hamilton, Steve Mattingly, David C. Volignier, Roy Simonds, Randall Steffens
San Francisco de Macorís
Daniel Lopez, Pasqual Soret
San Juan de la Maguana
Alex Nischuk, Robert Wesner
San Pedro de Macorís
Bruce Powers, Carol Powers, Joseph Ziebel, Carol Sowers, Donald Sowers, Richard Hayman, Rhonda Poff, Danny Poff.
Santiago
Albert Anderson, Vice McIsaac, Thomas Stone, John Bilbro, Talula Cartwright, Thomas Bour
Christopher Columbus came first to establish a Spanish colony on the south coast of the Dominican Republic which is the eastern part of the island of Hispaniola. Now known as Santo Domingo, the capitol city, is home for two local conferences for a population of more than 2 million. The Dominican Republic's population now exceeds 8 million.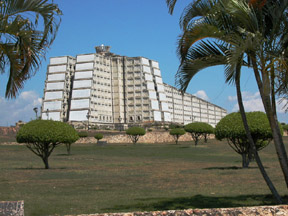 The Dominican Republic is a land of major economic contrasts with barrios of wealth and poverty. In preparation for a visit by the Catholic Pope in the early 1990s a great cathedral, left, was built in the shape of a cross in Santo Domingo. About 95 percent of the population is Catholic. However, the fast-growing Adventist church now has scores of small churches in Santo Domingo and other cities built by Maranatha Volunteers International in which many of the evangelistic campaigns have been held.
Orientation for the meetings was held Feb. 12, at the Dominican Fiesta Hotel for almost 60 volunteer evangelists. Except for two from Spain and five from Canada, all the volunteer evangelists were from the United States. Campaigns were held from Feb. 14 to March 1.